Receptra Naturals: Organic Hemp CBD Oil Products
Rest assured: Receptra Naturals is serious about giving you the best possible relief with high-quality full-spectrum hemp extract CBD products:
Full-Spectrum CBD Oil & Tincture
Full-Spectrum CBD Gummies (Vegan)
Full-Spectrum CBD Capsules
CBD Topicals
CBD for Dogs, Cats & Birds (CBD Dog chews & Pet Tincture)

Each full-spectrum hemp extract CBD oil bottle clearly indicates the potency per dose and all Receptra Naturals CBD products count numerous verified customer reviews.
What's more, all U.S. orders get free shipping and are eligible for a full refund within 30 days if you are not 100% satisfied with your product!
Serious CBD Products: Formulated for Your Relief
Need CBD for pain relief? Serious Relief + Arnica & Turmeric CBD products are here to help you keep going with your active lifestyle (CBD Oil tincture, CBD Gummies, CBD Topicals).
Need CBD for sleep? Serious Rest + Chamomile CBD & CBN products may help you get all the rest you deserve (CBD gummies, CBD softgel capsules, CBD oil tincture).
Need CBD for anxiety or stress relief? Serious Relax + Arnica & Lavender CBD products may help you experience quick relief and reach mindfulness (CBD body oil, CBD oil tincture, CBD softgel capsules).
Need CBD for overall wellness? Serious Wellness full-spectrum CBD hemp oil tincture contains 50mg of CBD to provide you with the rest, relaxation and relief you have come to expect from Receptra Naturals.
Are you looking for THC-free CBD products?
Consider Serious Relief + Arnica Targeted Topical & Serious Relief + Turmeric 0% THC CBD oil tincture.
Why Choose Receptra Naturals?
Since its founding in 2015, Receptra Naturals has been a reliable and transparent CBD products provider, using only organic ingredients and locally-grown hemp.
Receptra Naturals is passionate about offering all-natural, plant-based products that helps thousands of people.
Do you have any questions? Feel free to chat with their friendly customer support team!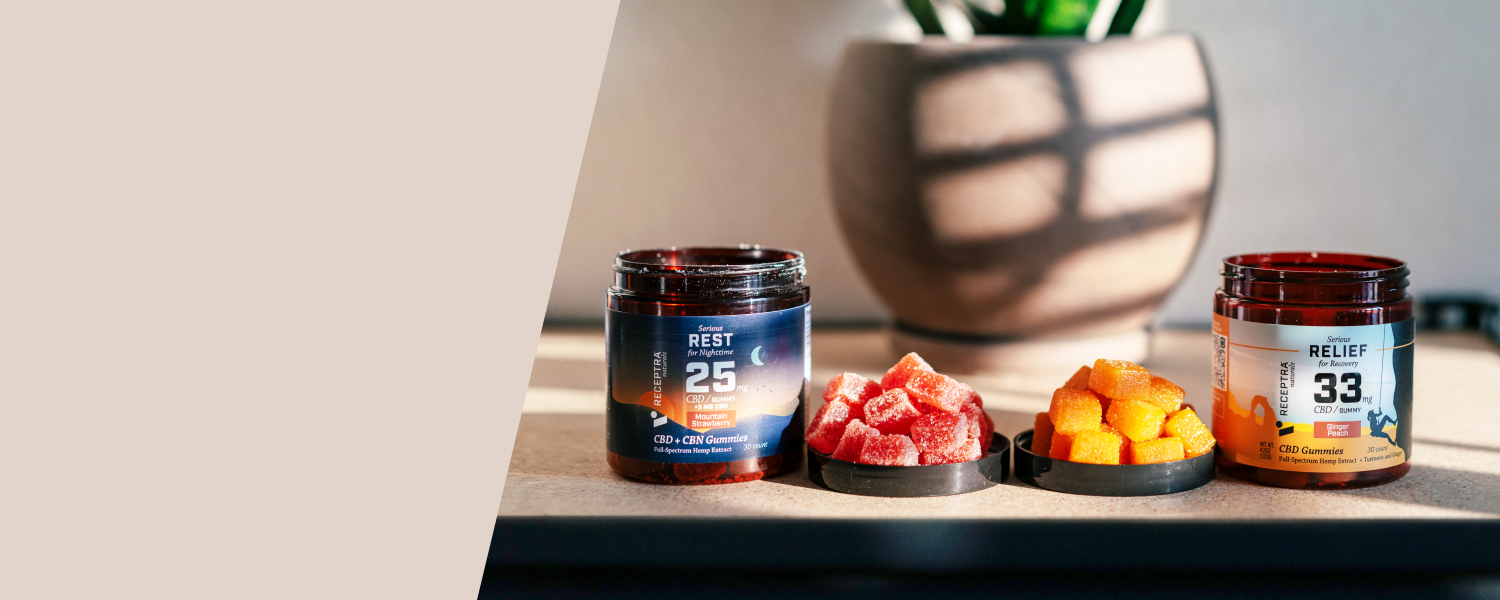 The statements made regarding these products have not been evaluated by the Food and Drug Administration. The efficacy of these products has not been confirmed by FDA-approved research. These products are not intended to diagnose, treat, cure or prevent any disease. All information presented here is not meant as a substitute for or alternative to information from health care practitioners. Please consult your health care professional about potential interactions or other possible complications before using any product
This site contains references to products from one or more advertisers under affiliate marketing programs. We may receive compensation when you purchase a product through our links, at no additional cost to you. By clicking on links, you will be redirected to the websites of the advertisers and the terms of service and privacy policy of each website will apply.We make no representations or warranties as to any content located on any linked sites and you hereby assume all risks associated with visiting said linked sites.