Expert-Made Hemp-Derived Full-Spectrum CBD Oil & Products
Cornbread Hemp is all about providing you with legal cannabis products you can trust and making you feel the difference of 250 years of Kentucky hemp savoir-faire!
Their full-spectrum CBD products have been recommended by multiple expert sources and reviewed by thousands of happy customers.
Each product contains up to 2mg THC to comply with FDA regulations, is made with USDA organic hemp and is free from any kind of cover flavors. What's more, they're all third-party lab tested to ensure maximum purity and potency.
Here's a preview of Cornbread Hemp's cannabidiol products:
Full-Spectrum CBD Oil (Whole Flower or Distilled)
Full-Spectrum "Flower-Only" CBD Gummies (Vegan)
Full-Spectrum CBD Capsules (with CBDa & minor cannabinoids)
Full-Spectrum CBD Cream (Balm & Lotion)
Full-Spectrum CBD Oil for Pets (Corndog flavor)
Cornbread Hemp Product Finder: Answer & Recommendations + 25% Off
Cornbread Hemp's website has a nice feature you can use to find the right product for you: Product Finder.
Simply answer a few questions and enter your email to receive a 25% off discount and a custom product recommendation!
You can also subscribe to receive your CBD product every 30/45/60 days and save 25% + free shipping!
The company also has rewards and discount programs to help you get the most out of their products, even if you're on a budget.
Why Choose Cornbread Hemp?
This Kentucky company was born with the intent of prioritizing quality over profits with flower-only hemp extracts.
Hemp stalk, stem and leaves do not contain CBD or THC, the two main cannabinoids found in cannabis plants.
While corporate CBD uses the entire hemp plant since it's a faster & cheaper solution, Cornbread Hemp is a direct response and is honored to offer you nothing but the best full-spectrum CBD oil available, made only with hemp flowers.
You deserve better CBD. Get your hands on it today!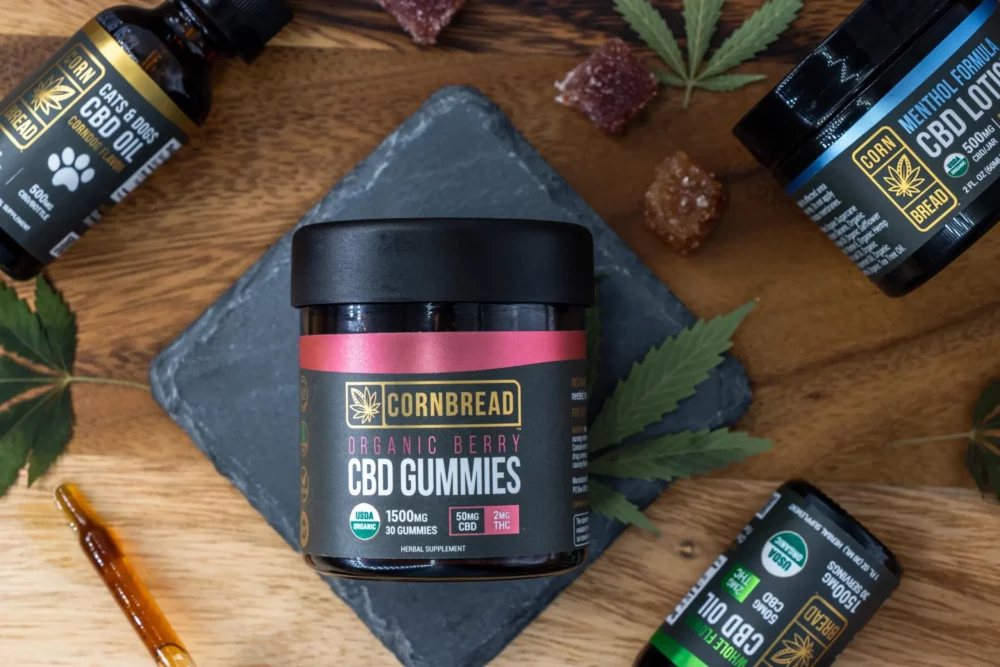 The statements made regarding these products have not been evaluated by the Food and Drug Administration. The efficacy of these products has not been confirmed by FDA-approved research. These products are not intended to diagnose, treat, cure or prevent any disease. All information presented here is not meant as a substitute for or alternative to information from health care practitioners. Please consult your health care professional about potential interactions or other possible complications before using any product
This site contains references to products from one or more advertisers under affiliate marketing programs. We may receive compensation when you purchase a product through our links, at no additional cost to you. By clicking on links, you will be redirected to the websites of the advertisers and the terms of service and privacy policy of each website will apply.We make no representations or warranties as to any content located on any linked sites and you hereby assume all risks associated with visiting said linked sites.